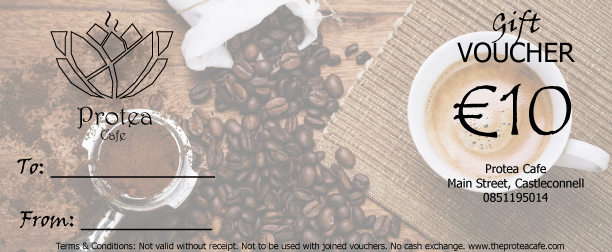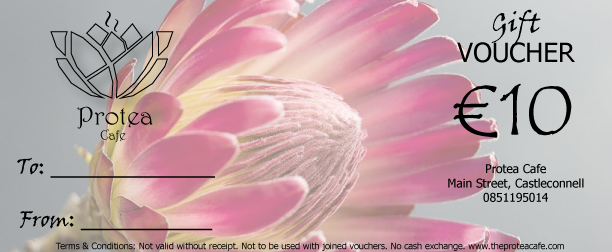 Values, when available, are €5, €10, €15, €20, €30, €40 and €50 (for that lucky one!). These are exclusive Protea Cafe designs and different amounts are available on request if needed.
Terms & Conditions
Gift Vouchers are only valid with a legitimate and legible Protea Cafe receipt.
Gift Vouchers will be subject to verification at time of presentation.
Protea Cafe reserve the right to refuse Gift Vouchers that may seem altered.
Gift Vouchers cannot be exchanged for cash, unless the amount is less than €1.
Any remaining balance (above €1) will be returned by receipt and to join the original Gift Voucher and receipt.
You may use one Gift Voucher per sale.
Gift Vouchers are valid for 5 years from date of purchase and verified from receipt date.
We are sorry but Protea Cafe will not be held liable for Gift Vouchers lost, stolen or damaged.
Gift Vouchers are subject to availability, however we will do our best to help.
Protea Cafe reserves the right to vary these terms and conditions without notice.
Know your rights! Click HERE to go to the Citizen's Information website and please let us know if you encounter any problems.
This is meant to be a gift and we will help make sure you enjoy it. However, please note this is a form of cash and therefore will be dealt with accordingly.